4+4 QUICK DESIGN-IN SERVICE (QDIS)
The pressure from the market to get the first sample in short time was getting stronger in last years. Therefore SD-OMEGA created internally a group of high skilled engineers for producing only golden samples. And also provide the documentation to engineering and production. So manufacturing process and capacities are designed to support both standard and custom system integration. Our dedicated engineers can respond to your sample pilot run in a short period of time of only 4 weeks until the first sample will be ready to ship.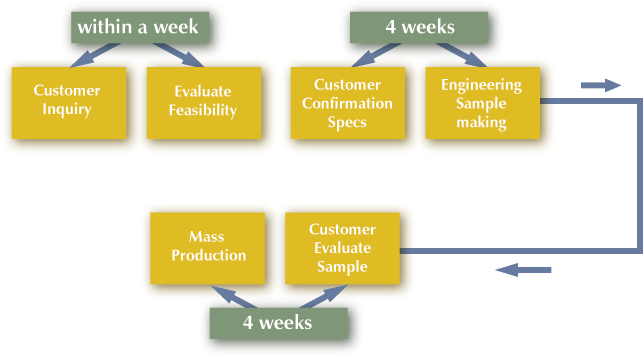 EASY CUSTOMIZING
Based on display and embedded system technologies, we deliver value-added modularized-technology solutions for our customers. Our customized products are varying from customer to customer, from idea, design, hardware & software development, customer approval, package design to mass production and delivery.
RELIABILITY TEST
We care the quality and reliability more than anything. Every sample can be certificated by following test items and strict test condition & procedure.
Environment

Thermal Profile Test

Cold Start Test

IP Degree Water-Dust resistant Test

Storage Test (non-Operating)

Vibration Test (Operating)

Vibration Test (Package)

Shock Test (Operating)

Drop Test (Package)

Salt Mist Test
FEATURES & BENEFITS
Quick customized sample delivery in only 4 weeks

Design approvals with many test procedures before mass production

Short time to market

High quality products